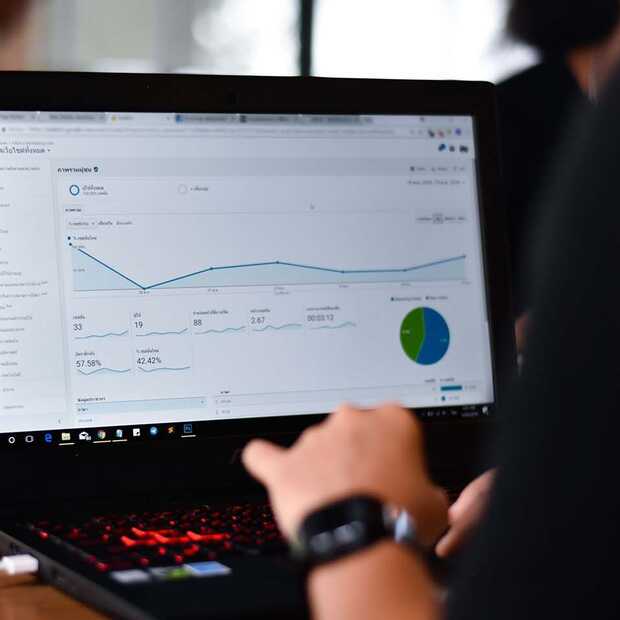 You may have already seen it, Google Analytics 4 (GA4) has been available for some time, the largest update that Google has made to Google Analytics. Google Analytics no longer needs an introduction, it is the most used web analytics tool. If you have seen the message below in Google Analytics, it is time to take action.
"We are introducing a new version of Google Analytics that allows you to collect exactly those insights that are essential for a decisive future. You can use the new version of Google Analytics by setting up a Google Analytics 4 property (formerly App & web property). "
Google Analytics 4 is the successor to Universal Analytics (UA) and brings with it a number of important changes. By means of machine learning, GA4 will help you even better to understand your data and translate it into important insights. Curious about what else has changed? In this blog I will explain the biggest differences and the pros and cons.
Tip: If you want to take a look, Google has a demo account available, now also for Google Analytics 4: https://analytics.google.com/analytics/web/demoAccount.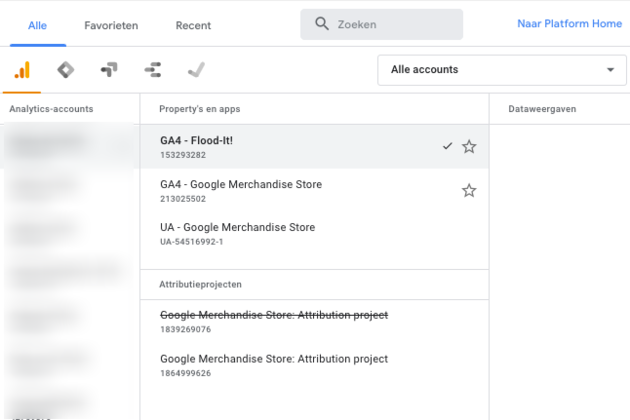 What are the main differences between Google Analytics 4 and Universal Analytics and (GA4)?
1. Improved data model
To properly understand Google Analytics 4 (GA4), it is important to know what has been adjusted under the hood. The biggest difference is in the way Google Analytics 4 measures the website. Google Analytics 4 uses it event-driven data model.
Universal Analytics (the 'old' Google Analytics) measures based on the session-based data model. These sessions are linked to user data (user data) collected from cookies and browser settings. Because more and more websites and apps are 'single page', this method of measuring is no longer the best way to collect data.
The event-driven data model that Google Analytics 4 uses disconnects sessions and pageview from each other. Google Analytics 4 measures a series of events, where each event passes on additional information via parameters. This makes the data a lot more accurate.
There are a number of events that are already measured by default in Google Analytics 4 such as scroll depth, page views
video engagement, outbound clicks, downloads and the use of site search (use of any search bar on your website).
Therefore, pay close attention when you use Google Tag Manager wants to make goals measurable, that is now different than before!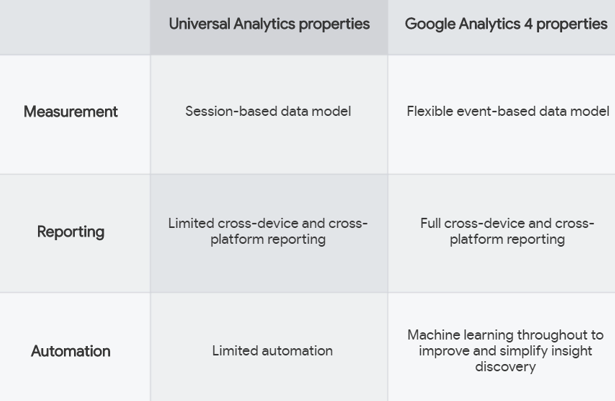 2. New reports and user interface (UI)
The interface has changed and will take some getting used to at first. For example, within Google Analytics (GA4) a number of statistics are no longer transparent, such as the bounce percentage and the number of standard reports has fallen considerably. Of the 150 reports available in Universal Analytics, there are now (only) about 30 left. According to Google, these new reports provide a better insight into the customer journey.
Tip: Google also has a handy walkthrough of Google Analytics 4:
3. Cookies and data analysis – ready for the future!
Because more and more 'third-party' cookies are being blocked by browsers, it is more difficult to follow a user on the internet. By upgrading to Google Analytics 4 (GA4) you are prepared for a cookie-less world. GA4 will try to supplement this data as well as possible by means of machine learning. The same goes for the privacy of the users. Within Google Analytics 4 (GA4) it is possible to submit a data deletion request in which the data of a visitor can be deleted. This data is also supplemented by machine learning.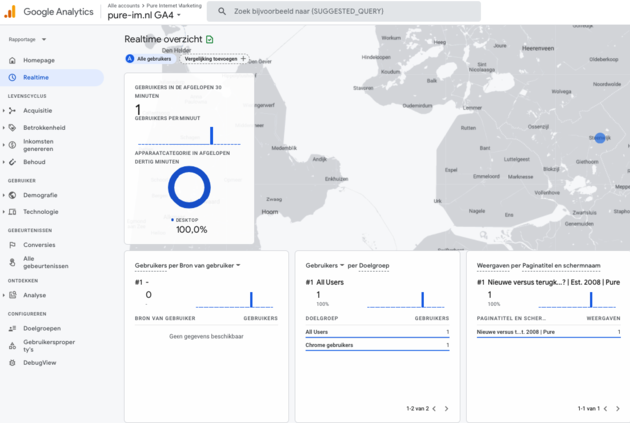 What are the benefits of Google Analytics 4?
Cross platform / device tracking based on user ID and Google signals

GA4 contains Machine Learning: this allows Google to make predictions and fill in any missing data

Advanced analysis reports in the Analysis Hub are available to everyone (previously only GA360 users)

Free connection to BigQuery: access to raw GA4 data

Data anonymization: GA4 automatically anonymizes the IP addresses of visitors

Future proof because GA4 collects as much data as possible without cookies or other IDs (cookie-less tracking)

Automatic tracking for certain types of events

Setting up and creating target groups is a lot easier

New series of engagement statistics such as engaged sessions, engagement rate, engaged sessions per user and engagement time

No data limit, except for the number of events you can track
What are the drawbacks of Google Analytics 4?
You do NOT bring historical data with you when you switch to GA4

Reporting and analyzing data is different

Conversion tracking will need to be reset

No insight into data from Google Search Console (and many other external tools)

Displays cannot (yet) be created as in Universal Analytics
To upgrade or not?
We do not expect Universal Analytics to be replaced by Google Analytics 4 in the short term, but it is clear that Google Analytics 4 is the future of web analytics. We, therefore, recommend creating a new property instead of converting your current property to Google Analytics 4 (GA4), the main reason for this is that Google Analytics 4 looks visually different and that the measurability has to be adjusted differently. You can always upgrade your current property. This way you can still use your 'old' Universal Analytics property in addition to your Google Analytics 4 property. You cannot transfer the data when you create a new property, so our tip is to create a GA4 property as soon as possible and start collecting data. In short, get started with it and you will be used to it in no time.
Need help with Google Analytics 4?
Be prepared for the future of web analytics and get started with Google Analytics 4. If you want to get started with Google Analytics 4 and do you need help? The specialists of Pure Internet Marketing are happy to help you.